Boeing Employees Coin Club











Within the Boeing intranet: Puget Sound Recreation Home Page.
BECC Home / Medals / 2020 / Previous / Next
2020 medals feature 777-9 Folding Wing Tip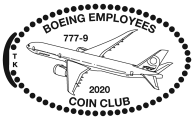 Note: Image in center is elongated cent design for coin show.
Artwork © 2019 The Boeing Company and BECC. All Rights Reserved.
December 2019 update (by Tony K.): We have 2020 777-9 medals! Initial sales are strong and I have a number of envelopes to open. We have a new supplier in Auburn for the custom holders. We are doing the 777 3-piece holders first with them.
October 2019 update: The 2020 medal order form has been mailed and is included with the October newsletter. For the collectors who prefer to get their copy by email, they should be getting it in their inbox soon. With the hassle of the custom holders for the 2019 medals, there was debate as to, rather or not to, offer the custom holders. It was decided to offer them. I am going to be 'testing' a new supplier to make sure we can supply holders for the 777-9 medals. The medals are being minted and we should have them around the end of the month.
Mintages of 2020 medal:

Silver -
Pewter -
Bronze -
Copper -
Antique finish bronze (for awards) -
Brushed nickel (for exhibit awards) -
Total - to be announced