The 2021 coin show was cancelled due to the ongoing virus outbreak.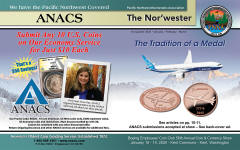 Thanks for attending!!
BOEING EMPLOYEES' COIN CLUB (BECC)
56th ANNUAL COIN & CURRENCY SHOW
JANUARY 18-19, 2020 at Kent Commons, 525 4th Ave. N, Kent, WA
Note: See below for elongated cent design for January 2020 coin show. Wooden nickels with the 2020 medal design were available. Copies of the PNNA quarterly publication, The Nor'wester, were available for free at the show. This special edition once again features an article about the BECC annual club medals!
Open to Public — Free Admission — Free Parking
Saturday 10AM to 5PM, Sunday 10AM to 4PM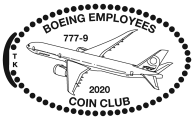 Wooden nickels and elongated cents with the 777-9 design were available at the 2020 coin show until supplies were exhausted. (One free wooden nickel and one free elongated cent per show attendee. Additional cents can usually be purchased.)
The BECC looks forward to its annual coin and currency show in January at the Kent Commons, 525 4th Avenue North, Kent, Washington. The show is the second largest in Washington and one of the largest in the Pacific Northwest with about 70 dealers participating and arguably the best liked show as well. Dealers and buyers from across the country very much enjoy our venue because of the vast variety of numismatic materials available, the low cost to the dealers and the no-cost admittance and free parking.
BECC annual shows may have a small allotment of dealer tables available. Although the vast majority of our dealers come from up and down the west coast, we do have dealers that come from the east coast and Midwest. Unlike most shows, we try to promote some of our newer dealers by giving them a premium spot their first year. Dealers may contact the show chairman and/or bourse chairman for further discussion and bourse applications.
BECC Coin Show General Chairman as of fall 2019: Tony Kalt, becc.coinshow@gmail.com.
BECC Coin Show Bourse Chairman: David E. Buehler, phone 425-237-6979.
Get the dealer bourse application (PDF).