The BECC held its 51st annual coin show January 17-18, 2015 at the Kent Commons, 525 4th Avenue North, Kent, Washington. The show is the second largest in the Northwest with about 60 dealers participating and arguably the best liked show as well.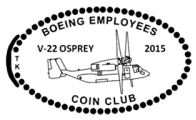 See 2015 coin show flyer in PDF format.
Wooden nickels and elongated cents with the Bell-Boeing V-22 Osprey design were available at the coin show until supplies were exhausted. (One free wooden nickel and one free elongated cent per show attendee. Additional cents could be purchased.)
2015 BECC Coin Show Report by Greg Smith –
The 2015 BECC Coin Show at the Kent Commons was a great success. First, I'd like to thank all the 60 dealers that participated this year, and all our volunteers which did a great job including the extra time they spent reviewing the floor traffic looking for things amiss. This two-day event could not possibly happen without the great preparation work and all the great volunteering to pull off the execution.

We were fortunate to have a few new dealers get into the show this year due to a couple of openings. Our floor layout also changed somewhat, making for longer blocks of tables which helped the flow of the 800 customers that showed up. Two dealers made their way to the front to commend us on the excellent preparation, the layout, and the spirit of the volunteers. I had a number of other comments that were less formally presented where they said that it was a good show. Not everyone made a lot of money but they got good exposure, established contacts, and felt good about the show in general.

We have the Andover Terrace Garden Club manage our coffee, donuts and other snacks throughout both days primarily for the dealers, but available to the general public too. The donations they received were about equivalent to our expenses for their two days. The club also presented the garden club with a $250 check for their efforts.

Again this year, the club provided Subway sandwiches with chips and water to the dealers. Lunch distribution was fast and efficient, and dealers were largely pleased.

Our volunteers had Saturday's admittance table all set up and customer entry was very fast as well. Doing away with the grand prize was great. No tracking of names and addresses, no big form to fill out at the front desk and so just tear the tickets half off and put it in the tin for the hourly drawings.

The cash machine (ATM) was more used than in past years. Good to have. The coin press was very popular and is another great addition. We have no speaker venues (good idea though) because we were wall-to-wall with dealers, but is something we will look into for future shows.

We had seven exhibits with about 20 cases of material displayed. All displays were excellent quality and very exciting topics. A renewed interest by club members and the general public will help us a see a rise in the entries in years to come. Coin, token, medal & paper money exhibits (displays) – Display awards (2015 awards and photos). Click on this link for collector exhibit information as well as a summary of past award winners. Exhibits from non-BECC members are welcome and are eligible for most awards.

Our Young Numismatists activities stayed fairly busy the entire time and many parents related that their kids had fun. The Garden Club ladies even remarked how excited the kids seemed this year. We also had scouts at all four BSA Merit Badge workshops. Some of the scout are YNs had fun going over the requirements and learning a lot of bonus material and seeing a variety of numismatic items available as part of the show and tell. YN attendance had people coming from Puyallup, Kent, Lakewood, Dupont, Seattle, Mercer Island, Mill Creek, Federal Way, Auburn, Tacoma, Redmond, Issaquah, Covington and Mukilteo.

Again, thanks to all the people and the effort they put in to make this another successful show for all involved.

For additional information about the annual BECC coin shows, see the main coin show page.