Boeing Employees Coin Club











Within the Boeing intranet: Puget Sound Recreation Home Page.
BECC Home / Coin Shows / 2018 / Previous / Next
Annual Coin Show - January 20-21, 2018
The BECC held its 54th annual coin show January 20-21, 2018 at the Kent Commons, 525 4th Avenue North, Kent, Washington. The show is the second largest in the Northwest with about 60 dealers participating and arguably the best liked show as well.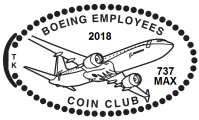 Wooden nickels and elongated cents with the 737 MAX design were available at the coin show until supplies were exhausted. (One free wooden nickel and one free elongated cent per show attendee. Additional cents can usually be purchased.)




Images of bourse floor before opening, the Kalt family hospitality table and Rosanne Buehler at the welcome desk.




Images of club members Del Cushing (left), Dick Billings and John Enges (center) and Tom Koch (right).




Tony Kalt at the YN booth (left) and with Boy Scouts (center). Also the ANACS table with ANACS Rep Cindi Snow Ray (right). Photos by David Buehler.


The collector exhibit area with Greg Smith (left) and Del Cushing (right) judging. Dealers, club members and the general public can all enter. See below for link to awards and photos.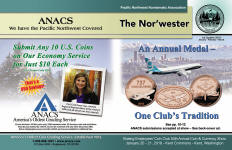 See 1st Q 2018 Boeing Employees' Coin Show edition of The Nor'wester.

This special edition features an article about the BECC annual club medals! Paper copies were available at the show. The Nor'wester is the quarterly publication of the Pacific Northwest Numismatic Association.
2018 BECC Coin Show Report by Michael Nau, Greg Smith and Dave Buehler – Mike, Greg and Dave would like to thank all the volunteers who helped make this a great coin show.