Boeing Employees Coin Club











Within the Boeing intranet: Puget Sound Recreation Home Page.
BECC Home / Medals / 2008 / Previous / Next
2008 medals feature 787 Dreamliner

2008 medals feature 787 Dreamliner™ – Club members voted in January 2007 to feature the new Boeing 787 Dreamliner™ on the 2008 BECC medals. In February 2007, club members also voted to feature the Boeing "Red Barn" on the same medal, with the connection "Where Dreams Began." The medal and its artwork were approved by the company. Medals were minted and are were available to eligible buyers. (Order forms appeared in the July and September 2007 BECC News.)
Artwork © 2007 The Boeing Company and BECC. All Rights Reserved.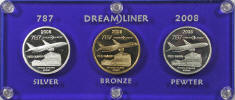 From left to right – Obverse of 1.5 Troy ounce 787 Dreamliner™ silver medal,
three-piece medal set in plastic display holder.
See pictures of 2008-2012 medals for common reverse.