Boeing Employees Coin Club











Within the Boeing intranet: Puget Sound Recreation Home Page.
BECC Home / Medals / 2014 / Previous / Next
2014 medals feature CH-47 Chinook Helicopter plus special 50th anniversary reverse
At the March 2013 meeting club members chose the CH-47 Chinook helicopter for the 2014 medal, beating out the Shuttle Carrier Aircraft and the F-18 Hornet. This is the first of its type to appear on a Boeing Employees Coin Club medal. On the first ballot almost everyone had this as one of their three choices. The club also selected a basic concept for the new reverse. Update: Design variations for the obverse and reverse of the medal were discussed in April and May 2013, and final approved designs were prepared. As reported in the August 2013 newsletter, "The Medals Committee has received approval of the design for the 2014 medal. The design below has been approved by Boeing Trademark. The BECC has approved minting 300 silvers, 150 pewter, 150 bronze and 150 copper medals." For club members, an order form was attached to the August 2013 club newsletter.
Update (Mar. 2014): The Medals Committee is starting to look at designs for the 2015 medal; perhaps looking into resurrecting the V-22 design that was suggested back in 2007 or so. In addition, the Medals Committee is looking into proposed designs for the 100th Anniversary of the Boeing Company for the 2016 medal. The Executive Board is considering silver purchase from the Golden State Mint. If you have suggestions for any medal design, please let the Medals Committee know of your ideas.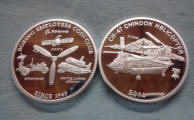 Artwork © 2013 The Boeing Company and BECC. All Rights Reserved.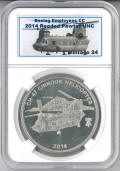 Mintages of 2014 medal:

Silver - 300
Pewter - 150
Bronze - 150
Copper - 150
Reeded edge pewter (for awards) - 24

Total - 774