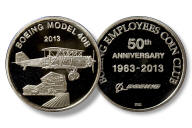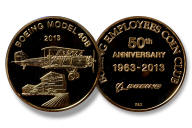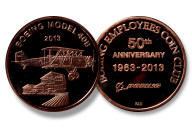 2013 Model 40B medal photos by BECC club member Chip Van Gilder, http://chipshotphoto.com.
Left to right: Silver, bronze and copper medals.


April 2012: Michael N. presented the design choices for the next club medal. Design choices included both the obverse and reverse. Of the two reverses, the design of choice was one presented by one of our YNs (Young Numismatist), Kaelyn R. The obverse choices presented were C-17, Condor, Model 40B, and Chinook C- 47 for the top contenders. The Model 40B was chosen as the design for the club's 50th year medal.
May 2012: A variety of styles where shown for the model 40B. The club voted on the design categories of attitude of the plane, the iconic symbol below it, and whether or not to have a logo on the front. The club voted on the design showing the full side and engine of the plane, favored the Red Barn and the totem logo on the plane if it fits. First round of voting was a tie. With a recount of only the two designs a finally choice was made. A new reverse was voted on, having the wording 50th Anniversary, 1963-2013 and BECC.
June 2012: The BECC has provided funds to purchase silver for the 2013 medal. The Board has approved the obverse and reverse designs. Preliminary mintage numbers are 300 silver and 150 each for copper, bronze and pewter. The artwork for the medal will be submitted to the artist, and an artwork copy will be provided in July. Next, the Medals Committee will review the artwork and work with Golden State Mint to make the dies.
Aug. 2012: We have finalized the obverse and reverse designs for our 2013 medal. Golden State Mint has begun to make the dies and we should have our medals soon. We will again produce medals in proof-like silver, pewter, copper and bronze.
Sept. 2012: A medals order form appeared in the monthly newsletter.
Artwork © 2012 The Boeing Company and BECC. All Rights Reserved.
Interesting Story! See "October Banquet Speaker Summary - Addison Pemberton - A short story of a Model 40C Tail # 5339" (PDF file) from the November 2012 BECC News.