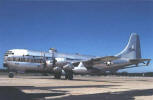 March 2011: The BECC membership selected the KC-97 Stratotanker military transport, first flown in 1944, as the Boeing product to be represented on the 2012-dated club medal. Members selected the KC-97 from among three top vote-getters at the general membership meeting held on March 23, 2011. Dave Buehler and Alan Van Horn presented nine Boeing products. Members voted via secret ballot during our meal break. BECC Secretary Terry Kamm counted the votes and provided the results to Alan to announce to the membership. BECC members previously were asked to submit ideas for the next BECC medal design by March 4. Other ideas included the Model 40A mail plane, cruise missile, JDAM and 747-8 Intercontinental.
April 2011: Members selected the desired view of the airplane from among 11 photos presented at the April 27, 2011 meeting, and the approved KC-97 design is shown above at left. Artwork © 2011 The Boeing Company and BECC. All Rights Reserved.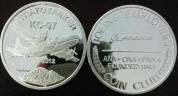 Aug./Sept. 2011: The Medals Committee decided the BECC will produce 200 silver, 150 pewter, 150 copper and 150 bronze medals with the 2012 design. A flyer with current prices was developed and attached to the club's monthly newsletter beginning in September. As of August, we have finalized the design for our 2012 medal. Golden State Mint polished the die and proceeded with the minting process. Medals order forms were available from the club. I would like to thank all who have participated in the making of our 2012 medal. - Alan Van Horn. Photo: Trial strike with reflection of the photographer!