The 2021 coin show was cancelled due to the ongoing virus outbreak. The next show is scheduled for January 15-16, 2022 at Kent Commons.
Although the 2021 Boeing Employees' Coin Show was cancelled, the PNNA still published the 1st Quarter 2021 edition of The Nor'wester, with an article pertaining to "numismatic show & tell," including items which would normally be shown to Scouts at the Boeing show.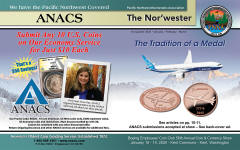 BOEING EMPLOYEES' COIN CLUB (BECC)
56th ANNUAL COIN & CURRENCY SHOW
JANUARY 18-19, 2020 at Kent Commons, 525 4th Ave. N, Kent, WA
Note: See below for elongated cent design for January 2020 coin show. Wooden nickels with the 2020 medal design were available. Copies of the PNNA quarterly publication, The Nor'wester, were available for free at the show. This special edition once again features an article about the BECC annual club medals! Miss getting a copy? Email info@pnna.org for infomation.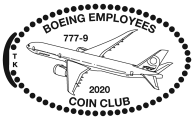 Note: Image in center is elongated cent design for coin show.
Artwork © 2019 The Boeing Company and BECC. All Rights Reserved.