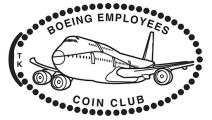 It's Over!! Annual coin show - January 21-22, 2017!
BOEING EMPLOYEES' COIN CLUB (BECC)
53nd ANNUAL COIN & CURRENCY SHOW
JANUARY 21-22, 2017 at Kent Commons, 525 4th Ave. N, Kent, WA -
See coin show webpage & coin show flyer. See 2016 coin show report/photos. See displays and exhibits page for collector exhibit information. Note: Image is elongated cent design for January 2017 coin show. Wooden nickels with the 2017 medal design were also available.

BECC 2017 Medals feature the 747-8 Intercontinental! See the medals page for details, or club members received an order form in the September 2016 newsletter. Artwork © 2016 The Boeing Company and BECC. All Rights Reserved.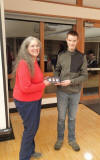 Jim Payne Memorial Award! – Congratulations to Jim Payne Memorial Service Award recipient Rosanne Buehler, wife of Coin Show Co-Chair and Medals Co-Chair David Buehler. Both Buehlers are extremely active in the club, and David had previously received the award in 2009. Photo (right): Ben M. (right), last year's award recipient, presents the Jim Payne Memorial Service Award to Rosanne (left). The award was presented at the annual October banquet. See the banquet page.
YNs Win Literary Awards! Brothers Ben and Alex M. won first and second place respectively in the annual American Numismatic Association (ANA) YN Literary Awards competition. Ben came first in the Q. David Bowers Young Numismatist category for his article "The Tale of Two Islands," and Alex came second in the Bill Fivaz Young Numismatist category for his article "Progressive Times in Japan." The brothers are thrilled with their awards! Ben's winning article is included in his YN column of the club's July newsletter, and Alex's article was published in the August issue.
BECC 2016 Medals commemorate Boeing's 100th Anniversary! As shown in the artwork at left, the BECC's 2016 medal commemorates the 100th anniversary of The Boeing Company, featuring the B&W Model 1 from 1916 and a modern 737 Max, scheduled for first flight in 2016. As noted before, "The 2016 medal design is the most important design that most of us in the club have ever been involved with. Think about it this way - We have waited 100 years to design and mint this medal!! There are only 24 Fortune 500 companies that have been around that long. For those reasons we need to make sure this is our best medal ever. Your 100th birthday only comes around once." Club members were asked to submit a creative design to Tony Kalt before the March meeting. At the April 2015 meeting, Tony K. led a 2016 medal discussion, with several designs provided by Doug Marsden, artist of BECC medals for several years. Members present voted for designs featuring the B&W and 737 MAX on the obverse. The artist refined the chosen designs and lettering, and the artwork first appeared in the club's June newsletter. Medals were first available to club members and other Boeing personnel in the fall of 2015. Note: reverse of the 2016 medal is the same as the 2014 BECC medal reverse. See medals page for updates (including quantities available). Artwork © 2015 The Boeing Company and BECC. All Rights Reserved.
BECC Library inventory (PDF file) - The BECC library contains an extensive number of books on U.S. COINS, CURRENCY, CANADIAN COINS, CURRENCY, World Coins and Currency, Tokens, Medals and BECC history. BECC members are encouraged to check out books to conduct research, browse, general interest or even prepare a display or topic for discussion for a general meeting. If you want to check out a book, please see club Librarian Mike Nau.