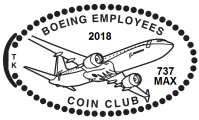 Note: Image in center is elongated cent design for coin show.
Artwork © 2017 The Boeing Company and BECC. All Rights Reserved.
BECC 2018 Medals feature the Boeing 737 10,000 delivered celebration! See the medals page for details and updates; club members received an order form in recent club newsletters.
2019 Medals - At the May meeting, Tom presented important statistics on World War II P51 Mustangs & Aces. Craig made a motion that the 2019 club medals depict a P51 Mustang, which was accepted. July update: Tony has ordered 2019 BECC Medals, featuring a "killer" P51 mustang. 200 silver, 100 bronze, 100 pewter and 25 copper.
YNs Win Literary Awards! Brothers Ben and Alex M. have once again won awards in the American Numismatic Association (ANA) literary competition for Young Numismatists (YNs). This year, the brothers won 2nd and 3rd places respectively in the David Bowers Young Numismatist Literary Award, Ages 13-17 category. Ben won $200 and Alex won $100 to spend at Whitman Publishing. Alex's winning essay "The Revival of Local Currency in Japan" is published in the June and July issues of the BECC News. Ben's winning essay "Five Reforms, Eight Years: The Coinage of China's Emperor Wang Mang" will be published in two parts in the August and September issues of the BECC News. Both Ben and Alex were thrilled to be presented their awards in person at the ANA Summer Seminar this year. Many congratulations to both of them!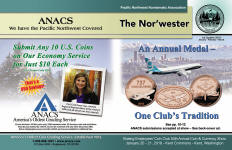 It's Over! - See you again in 2019.
Annual coin show - January 20-21, 2018!
BOEING EMPLOYEES' COIN CLUB (BECC)
54th ANNUAL COIN & CURRENCY SHOW
JANUARY 20-21, 2018 at Kent Commons, 525 4th Ave. N, Kent, WA
Note: See above for elongated cent design for January 2018 coin show. Wooden nickels with the 2018 medal design were also available. Copies of the PNNA quarterly publication, The Nor'wester, were available for free at the show. This special edition features an article about the BECC annual club medals!

Jim Payne Memorial Award! – Congratulations to club president Tom Koch, who received the prestigious Jim Payne Memorial Service Award at the club's 2017 annual banquet in Tukwila. See the banquet page. Photo: Tom Koch (at left) receives the award from 2016 recipient Rosanne Buehler (right).
The BECC has won the PNNA Literary Award for Best Club Newsletter twice - in 2013 and 2017. See the old news page and the PNNA's page for this award.