The Banquet was held on October 28, 2015 at the Tukwila Community Center.
Theme: "Boeing – 100 Years."
Guest Speaker: The guest speaker was David Williams from the Hydroplane Museum. Mr. Williams spoke regarding Mira Slovak.
President's Message (by Tony Kalt): I wanted to thank the Banquet Committee for the excellent banquet presentation! Kudos to Mike, Truus, Ben, Alex and John! There were 50 members and guests in attendance; plenty of food; conversation and prizes. The speaker was excellent; I was on the edge of my seat throughout the presentation.
Michael Nau - Banquet Chairman.
2015 Banquet Report/Photos by Terry Kamm, David Buehler and Tony Kalt.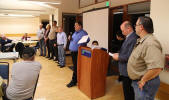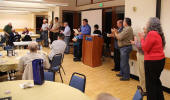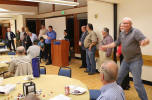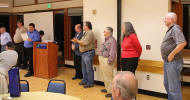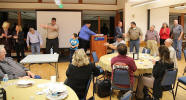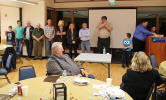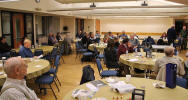 Top two rows: BECC annual award presentations.
Bottom row: general audience watching the awards.



Tony Kalt (right) presenting the Jim Payne Memorial Service Award to Benjamin M. (left).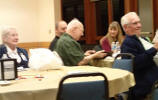 Various raffle prize (door prize) winners, or announcements thereof (by Tony).


John Enges (in charge of food preparation) "mugs" for the camera!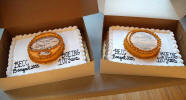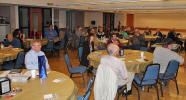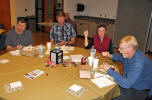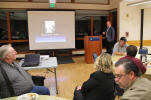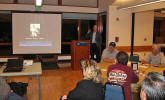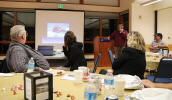 Special cakes depicting 2016 club medal and elongated coin, and banquet attendees enjoying the meal and cake.
Bottom row: Banquet guest speaker David Williams (right); introductions by Mike Nau (left/center).
Detailed banquet report (from November club newsletter by Terry Kamm): The 2015 banquet was held at the Tukwila Community Center. Mike Nau, Banquet Co-chair called the meeting to order around 5:30 p.m. Mike proceeded to make some brief announcements that the drew the lucky number for the Early Bird Prize. The Early Bird Prize was a Kennedy Chronicle Set won by Warren. After Ben, one of the BECC YNs explained the manner in which members would eat dinner. Ben had a list of twelve questions entitled "100 Years of Boeing in a Nutshell". Each table had 10 minutes to answer the questions. The table with the most correct answers would eat first in line. The results were amazing. Only one table managed to get 7 out of 12 correct. Most tables had between 1-5 answers correct. Needless to say, the table that got 7 correct was extremely happy they got to eat first. It was noted by all at the Banquet that the table where Jon E. sat only got a few correct and were last in line to eat the banquet.
Banquet was catered by The Longhorn BBQ. Menu consisted of ribs, chicken, baked beans, coleslaw, potato salad, rolls, sausage, beverages and cake. Members seemed to enjoy the meal. There was plenty of food for all. After a while, Mike stood and introduced the guest speaker. The theme for the banquet was Boeing – 100 Years, and the speaker was David Williams from the Hydroplane Museum. Mr. Williams spoke about Mira Slovak. From the NY Times internet: Mira Slovak, who as a young airline pilot in 1953, fled Communist Czechoslovakia by hijacking his own commercial flight to West Germany. Mr. Slovak, then in his early 20s, was the captain of a Czechoslovak Airlines DC-3 when, on the night of March 23, 1953, he and a few others on board carried out the hijacking. They had spent months planning it. Shortly after takeoff, with more than 20 passengers aboard, Mr. Slovak locked his co-pilot out of the cockpit. He then took the plane on a sharp dive to help subdue others and to drop the plane to below 1,000 feet, where radar would not detect it. The plane, scheduled to fly from Prague to Brno, Czechoslovakia, landed at a military base in Frankfurt about an hour later. Mr. Slovak said he had navigated the night flight with the help of moonlight above and neon lights from businesses below, electric evidence that he had entered the West. Mr. Williams went on to detail many of the events in Mira Slovak's life. Mr. Williams is working on a book that will be available later in the near future. His presentation was very enjoyable. For his efforts, Mike Nau, awarded Mr. Williams a three piece, silver, pewter and bronze 1977 Boeing hydrofoil medal set.
Afterward, Mike handed over the meeting to our President Tony. He recognized the many elected and volunteers that help make the BECC runs smooth. All received an antique finish bronze medal in a special holder. Next President Tony along with YN helpers drew numbers and awarded door prizes. The Grand Door prize was awarded to Karen. Karen won a proof U.S. Mint commemorative coin. Meeting adjourned.