Jim Payne Memorial Award! – Congratulations to club president Tom Koch, who received the prestigious Jim Payne Memorial Service Award at the club's annual banquet in Tukwila. See the banquet page.
Photo: Tom Koch (at left) receives the award from 2016 recipient Rosanne Buehler (right).


BECC wins newsletter award! The BECC was selected once again to receive the Literary Award for Best Club Newsletter from the Pacific Northwest Numismatic Association (PNNA). The award was presented on March 18 at the PNNA's annual convention in Tukwila, and subsequently presented to newsletter editor Truus Lagerman at the club's March 29 meeting. Congratulations to the editor, and to all others who contribute to the newsletter, including the YNs! Photos: Tony Kalt (left) presents the PNNA's award to newsletter editor Truus Lagerman (right) at the BECC meeting on March 29. See the PNNA convention report for a photo of Tony originally accepted the award from the PNNA president. Also see the old news page for when the BECC first won this award in 2013.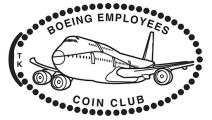 The BECC 53rd annual coin show in Kent, Washington was held January 21-22, 2017.
Wooden nickels and elongated cents with the 747-8 Intercontinental design were available at the coin show until supplies were exhausted. (One free wooden nickel and one free elongated cent per show attendee.)