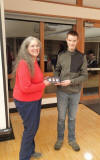 Jim Payne Memorial Award! Ė Congratulations to Jim Payne Memorial Service Award recipient Rosanne Buehler, wife of Coin Show Co-Chair and Medals Co-Chair David Buehler. Both Buehlers are extremely active in the club, and David had previously received the award in 2009. Photo (right): Ben M. (right), last year's award recipient, presents the Jim Payne Memorial Service Award to Rosanne (left). The award was presented at the annual October banquet. See the banquet page.
YNs Win Literary Awards! Brothers Ben and Alex M. won first and second place respectively in the 2016 annual American Numismatic Association (ANA) YN Literary Awards competition. Ben came first in the Q. David Bowers Young Numismatist category for his article "The Tale of Two Islands," and Alex came second in the Bill Fivaz Young Numismatist category for his article "Progressive Times in Japan." The brothers are thrilled with their awards! Benís winning article is included in his YN column of the club's July 2016 newsletter, and Alexís article was published in the August 2016 issue.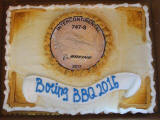 BECC Membership Picnic/BBQ, 6:00 to 8:00 PM on Wednesday, July 27, 2016, Tukwila, WA.
See more photos from this event.

The BECC 52nd annual coin show in Kent, Washington was held January 16-17, 2016. Wooden nickels and elongated cents with the Boeing 100 Years design were available at the coin show until supplies were exhausted. (One free wooden nickel and one free elongated cent per show attendee.)