All March-December 2020 in-person meetings cancelled due to virus concerns!
Updates were posted when it is was possible to meet again.
Jim Payne Memorial Award (2020)! – The Jim Payne Memorial Service Award was not awarded due to the cancellation of club meetings and the annual banquet in Tukwila.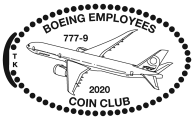 The BECC 56th annual coin show in Kent, Washington was held January 18-19, 2020.
Wooden nickels and elongated cents with the 777-9 design were available at the coin show until supplies were exhausted. (One free wooden nickel and one free elongated cent per show attendee.)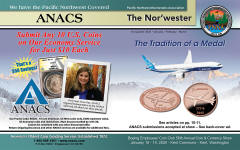 Copies of the PNNA quarterly publication, The Nor'wester, were available for free at the show. This special edition once again features an article about the BECC annual club medals! Miss getting a copy? Email info@pnna.org to request a copy (limited supply - postage may be required), or see the link above to view online.