In Memoriam – We are saddened to report that Michael Pepka, longtime BECC Coin Show Chairperson, passed away on October 8, 2010 after a brief battle with cancer of the esophagus. Mike was a wonderful individual and loved managing the coin shows in January. We already miss him. A memorial service arranged by Mike's wife and family was held on October 15 in Issaquah. Mike had known this was coming in time to make sure that the coin show would go off as smoothly as possible. Please direct all future concerns with the BECC annual coin show to Greg Smith. See tribute to Michael read at the October BECC banquet.

Congratulations, Terry! Terry Kamm (right) receives the 2010 Jim Payne Memorial Service Award from 2009 recipient David Buehler (left), at the October banquet. Terry has served as past President, Vice President, Secretary, Membership Clerk, Newspaper Editor and helped with many volunteer activities. See the Jim Payne award page. | See banquet report and photos (PDF)!
Survey! BECC members were encouraged to complete the 2010 Boeing Recreation Survey by November 1.
Boeing Family Days – The BECC had a table at the Duwamish event on August 25, 2010, and at the Auburn event on August 15, 2010.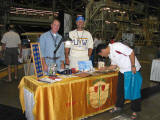 Greg and Dave step up to new coin show positions – Greg Smith (left behind BECC table in photo) and David Buehler (at right behind table) have stepped up to new positions with the BECC annual coin show committee. Greg is the new bourse chairman and Dave is the new general show chairman. See the BECC officers page for contact information. The club would like to thank the previous show chairman, Michael Pepka, for his many years of excellent service. Michael, who is unfortunately now deceased (see story above), was the recipient of the club's 2008
Jim Payne Memorial Service Award.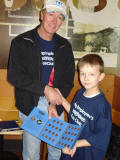 Boeing Employees Coin Show – January 16-17, 2010, Kent Commons, 525 4th Ave, Kent, WA. Photo: Along with 65 dealers and hundreds of buyers at the 2010 BECC Coin Show, Young Numismatists could venture a guess at how many foreign coins were in a large jar. Our winner was a young local area lad by the name of John W., who guessed 2000 coins. Greg Smith (left) met up with John (right) and his family and presented a "30th Anniversary of Numismatic News Lincoln Cent Set" dating 1952-1982, all in Brilliant Uncirculated (BU) condition. Along with the set John received a Boeing Employees' Club T-Shirt, a partial set of Lincoln cents dating back to 1910, a copy of Coins magazine and another BU "Wheatie" starter set. Oh, the number of coins actually in the jar ... 2010, of course!