John Enges (left) receives the Jim Payne Memorial Service Award from Terry Kamm (right). John has served the club in an number of capacities including preparation of banquet food! The award was presented at the October 26, 2011 annual banquet. See the full banquet report.
Theft reported! The BECC regrets to report that a number of items were recently stolen from a club member. The items include Boy Scout silver anniversary coins, silver ingots and silver serving pieces. If you have information or are offered this material for sale, please contact Greg Smith at 253-737-6268.
Jim Payne Memorial Award nominations are sought!! It is that time of year again where the past three Jim Payne Award recipients get together and review the people you nominate for our most prestigious award. Your nominee must be submitted by the first week in October to give the committee time to review and select the candidate for the award. Your candidate(s) should be a member in good standing of our club, and your written submittal should explain why you think your candidate deserves the award. Please submit your written proposal to Greg Smith, Terry Kamm or David Buehler.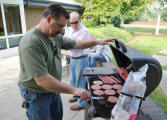 BECC Membership Picnic/BBQ, 5:00 to 8:00 PM on Wednesday, July 27, 2011, Tukwila, WA. Thanks, John, for doing the cooking!
See more photos from this event.

The BECC will also have its annual banquet at the Tukwila Community Center in October. See the banquet page for information.

January 15-16, 2011 BECC Coin Show at Kent Commons —
Photo at left: BECC members John Enges and Jesse Torres at their bourse table; Del Cushing in the background (right). Photo at right: BECC volunteers at the club table.

As reported by bourse chairman Greg Smith, "The BECC Coin Show was well attended with 73 dealers and 80 dealer assistants operating 175 tables of everything from ancients to tokens. The general admissions topped 1,000. We also had 31 BECC members that did the set up, took care of general admission and walked the floor to aid anyone as necessary. Overall the show was a success, and feedback was generally very positive. The exhibits were light with only six entrants in four categories (see 2011 exhibit awards). The show is a nationally recognized show with dealers and buyers coming from across the nation and down the west coast."
Scholarships! The BECC provided scholarships for four current BECC members to attend the seminar "Introduction to Counterfeit Detection of United States Coins," held January 22-23, 2011 in Tukwila, WA. The BECC paid $99 of the tuition cost of $198 per person. The members who took advantage of this opportunity will report on their experiences at an upcoming club meeting. Photos: Group including instructor Mary Sauvain; Alan Van Horn; Grant Knutson; Jesse Torres.