Jim Payne Award! Congratulations to Bruce Coggins (left), winner of the annual Jim Payne Memorial Service Award, seen receiving his award from 2011 JP award winner John Enges (right). This award is given to the club member who embodies the character and principles that endeared Jim Payne to everyone who met him. Bruce unflaggingly supports club activities in any way he can and he volunteers to help with set up and tear down of each meeting, of the banquet, and of the coin show. For years Bruce has served the club as the auction chair.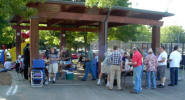 July BBQ! In Lieu of the standard monthly meeting format July has become a tradition of a club picnic complete with a BBQ menu. Members were given a BU 2012 Jefferson Nickel as a door prize for signing in. The photo shows club members gathering at the picnic shelter at the Tukwila Community Center. The grill was going and the food assortment was good! There were choices in all categories and colors! In the chocolate category we had chips and brownies! Remember we need to enjoy life once in awhile!

It's Over! Hope you enjoyed the show!
BECC annual coin show was held January 21-22, 2012 at Kent Commons.
See 2012 coin show flyer.
See coin show page for complete information including YN and Scout activities.
See 2012 exhibit awards (including photos). See more 2012 coin show photos.
Photo: John Enges and Jesse Torres at their bourse tables.
BECC Library inventory added (PDF file), as compiled by BECC Librarian Michael Nau. Items in the library may be borrowed by club members subject to the rules established by the board of directors.