BECC 50th Anniversary! If you're an eligible Boeing person and needed a good reason to join the BECC here it was: a gold piece was the grand prize every single general meeting in 2013 to celebrate the club's 50th anniversary! The BECC 50th anniversary banquet was held on Wednesday, October 16, 2013.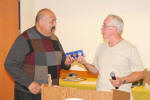 Jim Payne Memorial Award! – Congratulations to Jim Payne Memorial Service Award recipient Jesse Torres, as announced at the October 50th anniversary banquet.
Photo: Jesse Torres (left) receives the Jim Payne Memorial Service Award from Bruce Coggins (right). Jesse has served the club in several capacities including currently as club secretary.
New Everett Meetings! The Boeing Employees' Coin Club held a "North End Kick-Off Meeting" at the Boeing Everett 40-92 Cafeteria at 5:30 PM on Tuesday, March 5, 2013. Prizes and snacks were provided. Meetings were also held in May, August, September, November and December at the Everett Firefighters' Hall. Greg Smith reports that he appreciates the efforts of all involved and looks forward to great turnouts. Photo at right: Attendees at the May 20 BECC meeting in Everett.


BECC wins newsletter award! The BECC was selected to receive the first-ever Literary Award for Best Club Newsletter from the Pacific Northwest Numismatic Association (PNNA). The award was presented on April 13, 2013 at the PNNA's annual convention in Tukwila. Photos: Del Cushing (right) accepts the club newsletter award on behalf of the BECC. Presenting the award is PNNA President Danny Bisgaard (left). Note there are two different plaques - one will be kept by the BECC, and the other is a "permanent" plaque. See the PNNA convention report.
Congratulations to BECC editor Terry Kamm (see officers page), and to all others who contribute to the newsletter!
BECC YN wins award! Also congratulations to YN Ben M. Ben's essay submission to the 2013 American Numismatic Association (ANA) Young Numismatist Literary Awards competition was selected to receive third-place honors in the Bill Fivaz Young Numismatist Literary Award category. The awards were presented on July 4, 2013, during the graduation banquet of the ANA Summer Seminar in Colorado Springs. Ben submitted an article which was also published in the February 2013 BECC Newsletter. The article in the newsletter was titled "Passions in Collecting" and described his passion about collecting butterfly coins. Ben changed the title of his essay to "The Inspired Collector" for the ANA, but the content is essentially the same as the one published in the newsletter. Way to go Ben!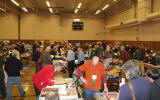 It's Over! Hope you enjoyed the show!
BECC annual coin show was held January 19-20, 2013 at Kent Commons. Photo: Scene from the 2013 BECC annual coin show.
BECC Library inventory added (PDF file), as compiled by BECC Librarian Michael Nau. Items in the library may be borrowed by club members subject to the rules established by the board of directors.